About Us
About 3dMD
In contrast to most 3D scanning technologies that were originally designed to scan inanimate objects for reverse engineering application, 3dMD developed its motion 3D capture technology from the onset to incorporate many different camera viewpoints and achieve ultra-fast capture speeds required to capture human subjects. 3dMD's unique approach results in a progressive sequence of high-precision 3D surface images of a subject's face, head, torso, limb, thorax, full body, etc. With 3dMD, research institutions, corporate innovation centers, and teaching hospitals can now accurately image even the most restless children!
Vision
To continue to drive research and clinical advancements by providing the 3dMD customer community with 3D and the latest-generation 4D motion technologies that will ensure the creation of an anatomical 3D image database with integrity throughout the project; a very efficient subject workflow for any high throughput environment; and a reliable system that will continue to perform over longer periods of time.
Proven Customer Track Record
With 4,000 3D/4D cameras globally in leading teaching hospitals; corporate and educational research institutes; and government agencies worldwide, 3dMD is committed to supporting the world's most forward-thinking clinical and research teams, who continue to push innovations in science and medicine, with our high-precision 3D and temporal-3D (4D) surface acquisition systems, as well as sophisticated 3D analysis and 4D tracking software.
Our Team
Christopher Lane
Chairman & Chief Executive Officer
With more than 40 years of experience in the IT industry, Lane has held senior technical and chief executive positions in globally-recognized high-tech and services companies, as well as serving as a board member for both privately and publicly held companies in the US and Europe. Following an early career in software engineering and as a consultant with a U.K. government agency focused on the promotion of IT, Lane joined Oracle, the world's largest business-to-business software company. During his six years with the company, he held VP positions in Europe and the U.S., including head of Consulting Operations. Lane then joined the IT team at EM Warburg, Pincus & Co., one of the world's leading venture capital investors. In 1994, Lane was appointed as CEO and president of TSW International, which he shaped to be the acknowledged market leader and visionary company in the Enterprise Asset Management market. Just prior to joining 3dMD, Lane held the position of COO at ECSoft, a European IT services provider.
Lane co-founded 3dMD in 2000 with the goal of establishing a highly-reliable, non-invasive 3D technology platform for efficiently imaging people in 3D to a level of anatomical shape precision required to fuel growth in applications such as medical, biometrics, human factor, high-end fit apparel, and anthropometrics. For the past 18 years, Lane has personally spearheaded an R&D strategy that has resulted in 3dMD becoming the benchmark supplier of high-precision 3D and sequential-3D/4D surface image capture solutions. To maintain the company's global benchmark status, Lane is actively involved with the 3dMD customer community to better understand real-world requirements and ever-changing environments.
Kelly Duncan
Executive Vice President, Sales & Business Development
With more than 25 years of experience in the IT industry, Duncan has held senior customer-facing and management positions in leading best-of-breed technology companies supporting a global customer network. Prior to joining 3dMD in 2000, Duncan was Director of Marketing at Exactium, an emerging growth B2B software company, where she directed the launch of the company's e-commerce software product, which contributed to the successful sale of the company to a leading CRM provider. From 1997 to 1999, Duncan was a direct report to an Executive VP at Manhattan Associates (MANH), a leading manufacturer of supply chain execution software. In this role, she was responsible for developing and implementing marketing and public relations strategies, which transitioned market awareness from the product to the company prior to and during the company's successful IPO. From 1992 to 1997, Duncan worked for Peak Technologies, a B2B system integrator, and was responsible for developing and executing the company's global marketing strategies. Duncan has a BA in Journalism from the University of North Carolina at Chapel Hill.
Involved in the day-to-day management of 3dMD including fiscal, operational, and commercial responsibilities, Duncan co-founded 3dMD in 2000 determined to create momentum for the adoption of a new non-invasive 3D technology in the medical community to enhance patient care and advance research initiatives. For the past 18 years, Duncan has taken responsibility for the integrity of the 3dMD's sales and customer care operations.
Mike Nugent
Vice President, Technical Operations
With more than 30 years of executive, IT, and customer service experience, Nugent joined 3dMD with the sole focus of ensuring successful support for 3dMD's rapidly-growing, global customer community.
Nugent started his career in customer service at Management Science America (MSA) and Dun & Bradstreet. After more than a decade at MSA/D&B, Nugent joined TSW International as Vice President of Global Customer Service and Information Technology and later founded KPI Technologies, which developed Customer Relationship Management (CRM) analytics software for fortune 500 companies to objectively measure customer service activities. When KPI was purchased by CRM provider Hyperion Solutions, Nugent joined as Vice President of the CRM Software Development Division and was responsible for top line revenue growth for this new business unit. Most recently, Nugent was a Managing Partner at Atlanta-based Technology One Group, a custom development and hosting enterprise software company.
Customer Support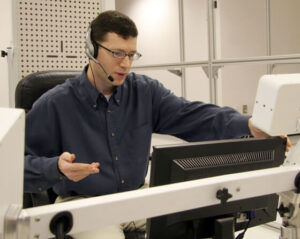 3dMD's Customer Care organization is committed to helping its customers through the entire process – from defining the initial application requirements through ongoing support. With a proven delivery methodology, the 3dMD team of experts not only delivers the right solution, but can also tailor comprehensive training and support programs that are sure to meet ongoing research or clinical requirements.
On-Site Installation: The first step is to understand your working environment. Once the 3dMD system usability requirements are established, 3dMD schedules a day at the customer's convenience to install the system at their preferred location.
Comprehensive Training Options: 3dMD's training programs are developed to ensure a seamless transfer of knowledge to the customer's team, maximizing the total return on investment. 3dMD tailors its training programs to fit the application requirements. 3dMD's educational curriculum ensures the foundation for long-term success.
• On-site system operator training for all types of system users and administrators, regardless of technical knowledge level
• Task-based instruction, hands-on workshops, and situational exercises
• Experienced instructor-led courses, or self-paced learning programs, that can be project-specific or industry-specific
Ongoing Customer Support: To maximize the value of the investment, 3dMD's customer support organization provides timely, effective assistance for its 3dMD systems and software applications. 3dMD has a range of customer care support packages including the various options:
Technical assistance during office hours, via online and the telephone
Problem diagnosis and resolution assistance
Software upgrades to keep you on the leading edge
Enhancement requests for new functionality
3dMD's technical experts are trained to take a focused and structured approach to solving critical, time-sensitive issues. 3dMD takes pride in monitoring customer activities and working with them to ensure continued success.
If you have questions or suggestions, you can send an email to support@3dMD.com. Please include your name, organization, telephone number, a short description of your issue/question and preferred method of response phone or email.
Call our Technical Support Engineers between 9am-5pm EST at +1 770.612.8002 in the United States, or 9am-5pm UK time at +44 (0) 203 5670566 in Europe.